Episode 23: Introducing Moses
(Exodus 1-2)
Jacob's family moves to Egypt
1 Seventy members of Jacob's family moved to Egypt. 7 After arriving, they increased abundantly.
The new king of Egypt mistreats the Israelites
8 There was a new King of Egypt who didn't know Joseph. 9 He worried that the Israelites were getting too numerous and powerful, 11 so he enslaved them and mistreated them.
15 The king told the Hebrew midwifes, whose names were Shiphrah and Puah, to kill all newborn males. 17 But they said to him,
19 The Hebrew women are lively, and they deliver their babies before we can get there.
20-21 So God treated the midwifes well, and built houses for them to live in.
22 Then the Pharaoh ordered the people to cast all their newborn sons into the river.
The birth and infancy of Moses
2 1 A man and woman, both from the tribe of Levi, had a son (Moses). 2 His mother hid him for three months. 3 Then she put him in an ark and floated him down the river. 5 Pharaoh's daughter found the ark and said,6 "This is a Hebrew child."
7 The baby's sister (Miriam) happened by and said to Pharaoh's daughter,
Should I find a Hebrew woman to nurse the child?
8 Pharaoh's daughter said, "Yes."
So she went to find her (and Moses's) mother (Jochebed).
9 Pharaoh's daughter said to Jochebed, "Nurse him for me. I'll pay you for it."
So Miriam and Jochebed took Moses away and nursed him.
10 After Moses was weaned, his mother returned him to Pharaoh's daughter who adopted him as her son, and gave Moses his name.
Moses kills an Egyptian
11-12 When Moses was grown, he killed an Egyptian who was smiting a Hebrew, after making sure that no one was looking.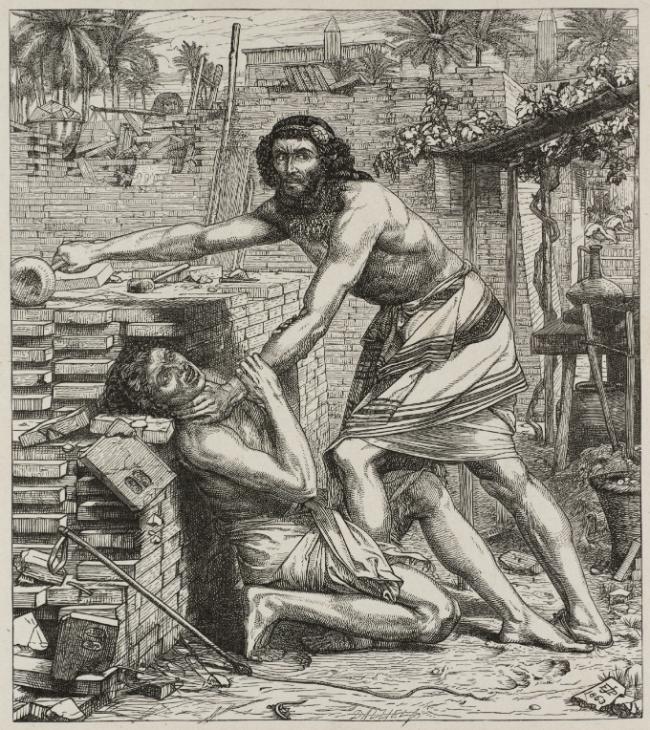 Moses flees to Midian
13 The next day, Moses saw two Hebrews fighting, and said, "Why are you smiting this man?"
14 The man who was doing the smiting said to Moses,
Who made you a prince to judge us?

Are you going to kill us like you did the Egyptian?
So Moses knew that his murder was not well-hidden.
15 When Pharaoh heard about it, he decided to kill Moses. But Moses fled to the land of Midian. When he arrived, he sat down by a well.
Moses and Zipporah
16 While Moses was sitting at the well in Midian, seven sisters came to get water.
17 Some shepherds tried to drive the sisters away, but Moses intervened and helped them water their flock.
18 The sisters told their father, Reul, about the Egyptian who helped them at the well. 20 He told his daughters to invite him to dinner. 21 So Moses went to dinner, and Ruel gave Moses his daughter, Zipporah. 22 And she had a son named Gershom.
The king of Egypt dies
23 The king of Egypt died, and the Israelites cried out to God.
24 God heard their groaning and remembered the deal he'd made with Abraham, Isaac, and Jacob.